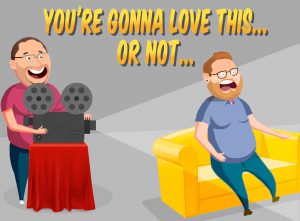 Matt loves watching bad movies in his basement. Josh is not a fan of watching bad movies. Matt brings Josh into his basement (the Subterranean Fun Pit, or "SFP"), and shows him bad movies, trying to get him to admit to liking one of them. And thus, the You're Gonna Love This… Or Not… (YGLToN, pronounced "Eagleton") Podcast was born.
Part of the Team Geeking Family of Podcasts, YGLToN will be a monthly podcast, featuring Matt and Josh talking about some pretty bad movies. Trust me, I used to sit there while they watched them!
Produced by Mike Wickliff, edited by Lizz Schunn, and part of the Team Geeking Family of Podcasts, this podcast will contain harsh language, and many times will review R rated films, so it is not recommended for children. Music for the promo, and each episode, courtesy of Scott Holmes, an artist on the Free Music Archive. Tracks are taken from his album "Happy Music", which can be found here, and used under the Attribution/Non-Commercial Creative Commons License!
NOTE: You're Gonna Love This… or Not has an explicit tag for harsh language, plus many of the films they're reviewing are rated "R". This podcast is not suitable for family listening, is NSFW, and should not be placed in reach of children.
You can find YGLToN on the following sites:
Year Three (2021)
Year Two (2020)
Year One (2019)