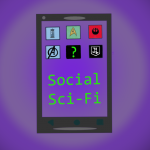 My friends!
With extra time this month, and the release of a film that's garnered a lot of attention due to trolls hating on a female protagonist, the Team Geeking Family of Podcasts is happy to bring you an extra episode of Social Sci-Fi! In this episode, Lizz sits down with Luisanna, John, and Mike to talk about the latest film in the Marvel Cinematic Universe, Captain Marvel! Join them as they talk about the outcry, the actual film, and some history and discussion about the character and hopes for the rest of the MCU as the conversation gets a little off track! Note that this episode is a bit longer than usual, and will contain spoilers for Captain Marvel!
 Time stamps!
0:00 – 0:06 Spoiler Warning
0:06 – 0:26 "Postcards" by Scott Holmes
0:21 – 0:46 Introduction by Lizz
0:46- 1:42  Going around the table, introducing the guests
1:43 – 1:47:51 – Discussion about Captain Marvel and the MCU/Comics
1:47:51 – 1:49:19 "Epic Cinematic" by Scott Holmes
1:48:10 – 1:49:18 Outro
Links of note!
NOTES & CORRECTIONS

Despite a comment to the contrary, Shirley Manson from Garbage is still alive as of this recording.

Featured Movie
Mentioned during the episode:
Where to find the guests online!
Where to find Lizz online!
Music featured on this Episode

Opening track: "Postcards" by Scott Holmes
Closing track: "Epic Cinematic" by Scott Holmes
All tracks off of Scott Holmes' "Documentary & TV Series", used under non-commercial/attribution license through the Free Music Archive (LINK).

Where to find the Podcast online!
Where to find Social Sci-Fi online!
Support the Podcast's Host
All notes for this episode can be found at http://geekinginindiana.com/ssf-y1sp1/
Thank you all for listening! As always, be excellent to each other, and to yourselves! We'll see you all soon!