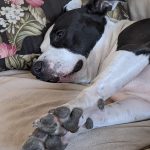 Happy Tuesday, my friends!
Last week, my brain started going a mile a minute at around 11:45 one night as I was trying to go to sleep. This led me to some ideas that could be used for Tuesday Tidbits, that while it would be some more work, would be a lot better and help a few more people than just posting a few online shows. So, starting this week, I'm giving information on important dates leading up to next month's election, I'm making sure to update the list of local creators that could use your eyes on their work (and, honestly, your money for it, if you can!), and I'm starting to provide information on friends local podcasts, if they have new episodes. Plus, just to give you some insight, I'm going ahead and including what I'm watching, reading, and playing over the course of the previous week, since the family is going through television series every night at dinner, I'm playing video games a bit more, and I'm reading a chapter or two every night before bed.
All of this was in notes like "take more pet pictures" which I think we can all agree would be a very good idea.
With this said, I'm going to go ahead and jump into what's happening.
What's happening for Online Geeks?
October starts on Thursday!
November? Not too far off, honestly.
Buy Local!
Listen Local!
You probably have an abundance of time on your hands, still, so why don't you fill your earholes with the voices of some of your favorite local Geeks? Here's a rundown of the local Geeky shows that I'm aware of, and starting soon, I'll let you know when new episodes are coming out! ALSO, if I've forgotten your podcast, I'm so sorry! I haven't had time to listen since 2018, and I've forgotten a LOT!
What's happening at the Geek Cave?
As always, we hope you have a great week! Remember, if you have an online event coming up, either leave the info in the comments below, or drop it to me using any of the contact methods listed on the sidebar!