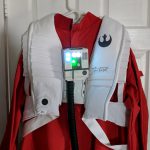 Well, while it's been a year for me, I still have goals, and I still have a costume that I'm working on getting finished. While I missed my goal of having it ready by Kokomo-Con, I still am pushing to have it done by the end of the year. Earlier this year, I posted a couple updates, both in February (link) and in March (link). Spring and summer were spent dealing with, well, you all know. Extra hours, conventions, multiple vehicles hitting us and our stuff, so it took me a bit to get back into the swing of things. So, what have I accomplished over the past eight months?
First things first, I have a lion's share of the costume done. The vest, flight suit, and leg flare holder were paid off before the fecal matter hit the rotary air distribution device, and were picked up a few months ago. After some minor fixes that come from inexperienced people doing measurements, everything is pretty much good to go on that front. Phil did outstanding work, just as I expected, and everything is very comfortable. If you missed it on earlier posts, you can find him on Facebook at Spacey-Wacey Wear (link) and I talked with him on the podcast back in February of this year (link). Now, when I say "done", what I mean is, all the hard work is done. I can throw the rest of the pieces on over it, and I'm a pilot. However, if you look at the pilots in the films, they ain't clean and new. So, I need to take some time to properly weather the costume, but that'll come after everything else is done.
To finish off the "soft" parts I have, as I said back in March, I do have the gloves in hand, and I think I have some boots that will hopefully pass when I submit the costume to the Rebel Legion. After looking through department stores, farm supply stores, Zappos, eBay, and Amazon for the recommended boots, I found these "close enough" boots on Amazon in my size (Affiliate Link). This is another very warm item, as these are snow boots, and they are a little bit loose, but the next size down would be a bit too tight, so I'm going to wear some thicker socks, and make sure to air them out after each wearing.
Next up is the chest box. Last post, I said I had the box in hand, and I had everything to put it together. Well, it turns out I also needed a back plate for it, which was also provided by one of our illustrious central Indiana Rebel Legion members, but he couldn't cut the plate until the chest box was assembled. So, I assembled it, sanded it, hit it with a filler primer, sanded it, and repeated until the box was nice and smooth. Then, the night before I was supposed to bring it over to him, I realized I had glued the bottom part in upside down!
Always refer to your reference pictures, folks. Always.
So, I missed that deadline as I very gently slid a razor blade into the cracks at the bottom, which I luckily had not filled with Bondo, and tapped the blade with a small hammer to break apart the glue before pulling the piece out, sanding everything again. putting it in the correct way, referring to the reference images a dozen more times to make sure everything was in the correct location, and then gluing it back in, sanding, and repainting. This pushed me far enough behind that, when I mailed it to Michael to get the plate attached, he went ahead and finished the wiring and painting for me, as we were running out of time for the KokomoCon goal. All the lights are gorgeous, and this piece is already weathered. Michael is awesome.
The leg flares were another purchased 3D printed piece that were kind of a pain in my butt. I worked on them before I worked on the chest box, so this was really the first time I'd worked with the material. I had issues with the layer lines, even after sanding and using filler primer. So I kept plugging away, and realized these take much more work than a comparable resin kit. However, after a lot of sanding, filling, and painting, they were ready to slide until the flare holder! That is, until I remembered that I have to weather them, as well.
This brings us to the helmet. Currently, the helmet is still in pieces in the workshop, but it's also getting painted! Oy, I forgot how out of practice I was with masking pieces, and using spray paint! Luckily, weathering can cover some of the sins, and patience and a very light sanding can take care of some others, but as the pictures show, I'm going to have to repaint the entire top part of the helmet, due to overspray that I didn't account for, and I still haven't decided on decals or a visor for it, yet.
I've set myself a deadline for December 15th to get this costume completed. All I really have left to do is finishing the helmet, finishing the harness, cleaning and attaching the connection from the chest box hose to the flight suit, and weathering. 2/3 of that is all that's REALLY needed, 1/3 is what I want.
Take a look below at some of my progress photos, and here's hoping I'll have a final post in the next few weeks!
This slideshow requires JavaScript.