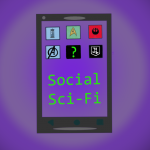 Lizz is a social worker, who's also trying to be more social. She really likes science fiction, like Doctor Who and Star Trek. So, she's getting together as many friends as the blog's recording equipment allows, catching up with friends, watching a show, then sitting down to talk about it.
Social Sci-Fi will be a monthly podcast featuring Lizz and a group of friends, talking about science fiction and fantasy television series, movies, and more.
Hosted, produced, and edited by Lizz Schunn, and part of the Team Geeking Family of Podcasts, this podcast will be released the second Friday of every month.
You can find Social Sci-Fi on the following sites:
Year Three (2021)
Year Two (2020)
Year One (2019) – Doctor Who Series 11